Genda announces integration with Autodesk Construction Cloud
Austin, TX - Genda has announced an integration with Autodesk Construction Cloud®, a portfolio of software and services that combines advanced technology, a builders network and predictive insights for construction teams.
Genda provides real-time construction labor insights, helping contractors see who's on site, where they are, and what they are doing right from the Genda app. Using easy-to-install, disposable Bluetooth sensors and a smartphone application, contractors get unit-specific trade work data that enables performance and productivity insights, the ability to view "plan versus actual" schedules, and process automation to reduce time-consuming tasks. Genda helps contractors increase safety, reduce risk, and stay on schedule.
Now, customers can embed Genda directly into their Autodesk® Build Insights or BIM 360® Project Home dashboards for enhanced visibility of their projects.
By expanding integrations with Autodesk Construction Cloud, Genda gives contractors a way to reduce their logins and consolidate their tech stacks. The console embed is the first step, followed closely by allowing form uploads from Genda directly into Autodesk Construction Cloud.
"We are constantly looking for ways to decrease friction on job sites and one way we know we can help contractors is by making it easy to access apps in one location, with good partner integrations. We are excited to announce our new Autodesk Construction Cloud integration," said Erez Dror, CEO and Co-Founder of Genda.
"Site performance and safety suffer when project managers aren't kept in the loop about their field personnel," said James Cook, director, partner integrations at Autodesk Construction Solutions. "Embedding Genda's real-time labor insights alongside key construction data in Autodesk Construction Cloud enables project stakeholders to reduce risk and increase safety by offering an even more comprehensive view of their entire job site."
To add the Genda Partner Card into your ACC account, follow these steps...
Adding Genda:
Open ACC Projects: https://acc.autodesk.com/projects
Select a project
Go to the project's "Insight" area in the top left of the ACC view
Click customize [in upper right]
Find Genda in the Card Library (searchable alphabetically) and simply add it
Configure your Genda Console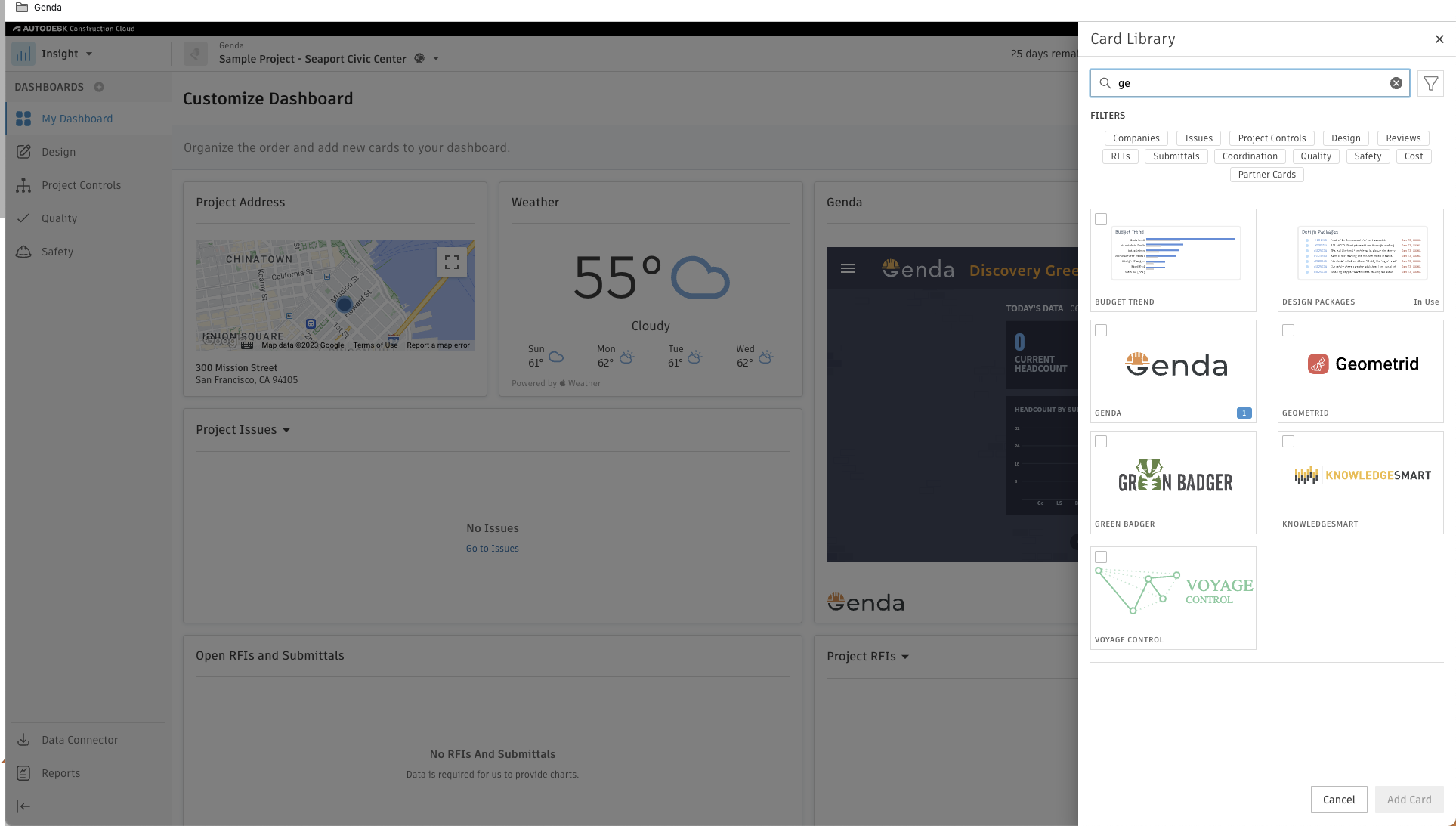 Get real time insights into your projects using Genda.
Walk through our Self-Guided Demo today!
__
Autodesk, Autodesk Build, Autodesk Construction Cloud, and BIM 360 are registered trademarks or trademarks of Autodesk, Inc., in the USA and/or other countries. All other brand names, product names, or trademarks belong to their respective holders.